Outdoor Wine Barrel Fire Table
Your outdoor space is the perfect place to show off your personality. When you spend time outside cooking, entertaining, or just relaxing, you should have a space that you enjoy. Barrel Rocker has the centerpiece that you need. Our wine barrel fire pit table is the perfect blend of rustic and elegant that your deck or patio needs.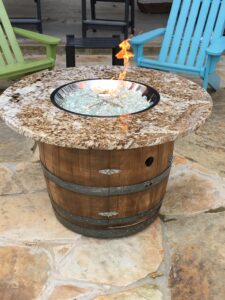 Our Barrel Fire Tables
We think that wine barrels are a classical, timeless design that deserves to grace the décor of any outdoor or indoor area. Our outdoor wine barrel fire table options are perfect for this. Each of our barrels is handmade with special attention to each small detail.
Our craftsmen take a repurposed wine barrel and use a wide variety of granite and natural stone to form the table that lays on top of the barrel. Because each of our products is custom made for each order, you get to choose the type of stone and the look of the barrel.
The burners we use for the fire tables run on either natural gas or liquid propane, and, once again, you get to choose which option is best for your personal space. In addition, each of the tables we ship out comes with a vinyl weather cover to protect your fire table from rain and extended sunlight. Our Standard burner is manufactured by Outdoor Greatroom Company, model number cfp-20-lp-k.
It is a 20" stainless steel burner, produces 60,000 btu's, is equipped with electronic pushbutton ignition and a safety shutoff valve. It comes standard with clear fire glass gems.
Whether you want to sip a glass of wine or simply enjoy a warm space to relax outside, we can help you. If you want a customized, personalized, and totally unique centerpiece for your outdoor space, our wine barrel fire pit tables will get the job done.
We're dedicated to giving you the centerpiece you want at a price that is fair. When you decide that you want one of our wine barrel fire tables, give us a call at 9032160413 for an estimate of your chosen materials.